A wrongful death case against a former doctor will have a new trial after the Utah Supreme Court overturned the $3 million verdict.
The Salt Lake Tribune reported that the Supreme Court ruled this week that Paul Ray Taylor's felony drug conviction in an unrelated case should not have been admitted at trial.
Taylor was accused of causing the death of patient Brad Robinson, who was being treated for degenerative disc disease and chronic back pain. Robinson died in 2006 from acute methadone toxicity.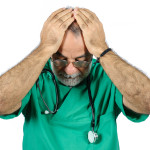 The ruling sends Taylor's case back to district court for a new civil case.
Robinson's children filed the lawsuit in 2009, saying Taylor had prescribed an unreasonable does of methadone. Taylor argued he had told Robinson to take less than prescribed, and go up to that dosage only if necessary.
Copyright 2020 Associated Press. All rights reserved. This material may not be published, broadcast, rewritten or redistributed.
Was this article valuable?
Here are more articles you may enjoy.