A new U.S. Forest Service report shows the continued expansion of housing development near forests, an area referred to as the wildland-urban interface, with direct implications for the cost of wildfire fighting.
Increasing densities of people and infrastructure in the WUI makes wildfire management more complex and requires more firefighting assets. Expansion of the WUI has implications for wildfire management as more of the Forest Service's resources are spent each year to provide the firefighters, aircraft and other assets necessary to protect lives, property and natural resources. In addition, overall fire seasons have grown longer, and the frequency, size and severity of wildland fires has increased, according to the report.
Research shows a steady increase in the area that is part of the WUI. The percent of homes in the WUI increased by over five percent between 2000 and 2010. As of 2010, the WUI of the lower 48 states includes about 44 million houses, equivalent to one in every three houses in the country, with the highest concentrations of houses in the WUI in California, Texas and Florida, according to the report.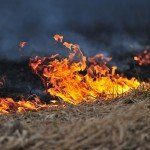 The cost of wildfire suppression reached a record $243 million in a one week period during the height of suppression activity in late August. In 2015, 52 percent of the Forest Service budget was set aside for fire suppression, up from 16 percent in 1995, the report states.
Related:
Was this article valuable?
Here are more articles you may enjoy.