Firefighters are reporting some progress against a Northern California wildfire that has charred more than 100 square miles of terrain, destroying buildings, threatening many others and sending thousands of residents fleeing.
As firefighters and equipment from outside the state poured in to battle the blaze burning about 100 miles north of San Francisco, more than 13,000 people were required or urged to leave their homes, vacation cabins and campsites.
Firefighting officials said crews made some progress Tuesday with some help from light rain. The blaze was 20 percent contained, but it was not expected to be corralled until at least Monday.
Teams were able to build a buffer between the flames and some of the estimated 6,900 homes it threatens. Despite the fire's growth, no additional homes were consumed outside the two dozen already destroyed.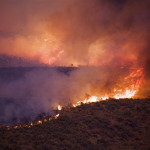 The fire, by far the largest of 11 burning in Northern California, started on July 29 in drought-withered brush that has not burned in years in the Lower Lake area. A cause has not been determined.
The National Interagency Fire Center in Boise, Idaho, has the wildfire listed as the nation's highest priority for crews and equipment even as potentially destructive blazes burned in Oregon and Washington, spokesman Mike Ferris said.
He called the fire that has burned 101 square miles "one big monster."
"In Northern California alone, all their resources are committed, and they are having to go outside the geographic area to get resources, whether it's aircraft or firefighters," Ferris said.
With more than 3,000 firefighters battling the blaze and evacuees seeking shelter, motels were booked up for days within miles.
Crews have conducted controlled burns, setting fire to shrubs to rob the blaze of fuel and protect homes in a rural area of grasslands and steep hills. Nearly a week into the fight, fatigue has set in.
Clear Lake, which at 70 square miles is the largest natural lake entirely within California, is a popular spot for boaters and campers. Despite the proximity of the fire, no homes around the lake were considered at risk on Tuesday, fire officials said.
Related:
Copyright 2020 Associated Press. All rights reserved. This material may not be published, broadcast, rewritten or redistributed.
Was this article valuable?
Here are more articles you may enjoy.