Crews battling the toughest of several wildfires burning across the state held their ground late Wednesday, keeping a blaze east of California's Napa Valley from jumping any more containment lines, fire officials said.
The fire, which has burned for a week, has charred more than 11 square miles in Solano County. It jumped the containment line Tuesday in rugged, steep terrain baked by triple-digit temperatures.
"We're optimistic that we are able to stop and hold it," said Daniel Berlant, a spokesman for the California Department of Fire and Forestry Protection. "Triple-digit temperatures and low humidity will again challenge us."
At least 136 structures remain threatened, and more than 200 people are still under orders to evacuate their homes.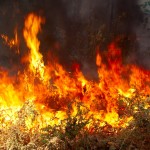 Temperatures were expected to remain high until Friday, when storms moving into Northern California could bring cooler weather but also a threat of lightning, Berlant said
Meanwhile, a fast-spreading fire that broke out Wednesday afternoon east of Lower Lake prompted the immediate evacuation of people living in the area.
The blaze grew from grew from 150 acres to more than 4 ½ square miles within six hours. It traveled at a rapid rate because the hard-to-access terrain is heavy with brush and timber, Cal Fire said.
Authorities ordered mandatory evacuations immediately after the blaze broke out in Lake County.
It is unclear how many people were evacuated and how many structures are threatened.
In the Sierra Nevada foothills, evacuation orders have been lifted for residents of 50 homes after a fire started there Saturday, Berlant said.
The fire northeast of Sacramento burned through more than 3 1/2 square miles and is about half contained.
Residents in the Central California community of Cascadel Woods north of Fresno were being warned to prepare to evacuate because of another blaze that has charred more than 3 square miles. It is 30 percent contained.
Authorities say a boy acknowledged starting the Cascadel Woods fire by playing with a lighter to burn pine needles in the dry Sierra Nevada. The boy faces criminal charges but remains out of custody because he and his family are cooperating, officials say.
Copyright 2023 Associated Press. All rights reserved. This material may not be published, broadcast, rewritten or redistributed.
Was this article valuable?
Here are more articles you may enjoy.