An elderly southern Oregon woman says she's been left to depend on friends and family after her home was gutted in a suspected arson and her insurance company canceled her policy. Insurance industry officials contend the process of handling fire-related claims isn't cut-and-dry.
Lola Powell, 81, says she wasn't home when flames flared Jan. 9 inside her house on South Second Street in Talent. "I had to go to the eye doctor to get glasses," she says.
Seven months later, Oregon State Police detectives arrested Powell's 53-year-old son, Jeffrey Lynn Kenton, who had been living with her in the home. The Jackson County District Attorney's Office has since charged Kenton with first-degree arson, a felony carrying a mandatory minimum sentence of 90 months in prison under Measure 11 guidelines.
Arson investigators believe Kenton intentionally set fire to the home by leaving his mother's curling iron on in her downstairs bathroom. The affidavit said Kenton also stole some of his mother's jewelry prior to the fire and sold it on the street for about $1,500.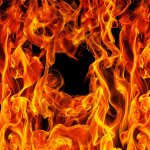 "He robbed her of everything," says Powell's sister Viola Slade.
Powell, who's now in a nursing facility in Medford, says she was initially staying in a temporary apartment that Allstate, her insurance company, was paying for, and that a contractor had been lined up to repair the damage to her home. But she says that several months after she filed her claim, the company canceled her policy and told her the fire was still under investigation with regard to the claim. Powell says her car insurance policy through Allstate was also canceled. "They had no reason to," she says.
Powell says she didn't even know the fire had been intentionally set until months later when Kenton was arrested. "He's never been on the policy," she says.
Annie Gustafson, a regional spokeswoman for Allstate, says the company wasn't able to go into the details of Powell's policy. "We can't discuss the specifics of the claims due to privacy reasons," she says.
But Michael Barry, a spokesman for the Insurance Information Institute – an industry-funded non-profit – says there are a number of reasons why a carrier might end an existing policy, which can occur either as an outright cancellation or through non-renewal.
Barry says the first reason a policy might be canceled is non-payment. "The second is (if there was) a misrepresentation at the time the policy was sought or approved," he said. Barry says it's more common that a carrier opts not to renew its policies with an existing customer after a major claim signals they're too high-risk to insure. "Which is well within their rights," he adds.
Powell says she'll be staying with another son and his wife in Talent once she gets out of the nursing facility. Her son Jeffrey Lynn Kenton is being held in the Jackson County Jail on $1 million bail. His trial on the arson charge has been scheduled for Nov. 17.
Copyright 2023 Associated Press. All rights reserved. This material may not be published, broadcast, rewritten or redistributed.
Topics Oregon
Was this article valuable?
Here are more articles you may enjoy.