Three California men have filed lawsuits against manufacturers, wholesalers and retailers of electronic cigarettes, claiming the products' batteries exploded, causing severe injuries.
The Los Angeles Daily News reported that the three men, one of whom is a former L.A. Galaxy player, are seeking damages and hoping to raise awareness about the lack of regulation in the e-cigarette industry.
The men's' attorney Gregory Bentley says Orange County resident and former Major League Soccer player Daniel Califf suffered second degree burns on his neck, ear and face and facial fractures when an e-cigarette he was using exploded.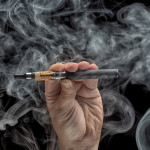 He says Bakersfield resident Gregory Phillips Jr. suffered second-degree burns to his leg when a battery exploded in his pocket and Vincente Garza, of Bakersfield, suffered injuries to his mouth and tongue and shattered his teeth when an e-cigarette exploded.
Related:
Copyright 2021 Associated Press. All rights reserved. This material may not be published, broadcast, rewritten or redistributed.
Was this article valuable?
Here are more articles you may enjoy.