A federal judge has approved a $1.3 million settlement in a lawsuit filed by a Hawaii motorcyclist who suffered permanent brain injury in a 2012 collision in Honolulu.
The Honolulu Star-Advertiser reports that Aaron Aloya filed the suit against the driver that crashed into him, Kaori Isomura, and motorcycle helmet manufacturer Shoei Safety Helmet Corp.
Aloya claims the helmet he had been wearing failed to protect him in the crash.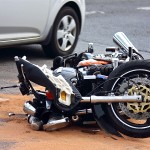 The settlement amount last week includes the $300,000 maximum coverage under Isomura's insurance policy and the $1 million maximum insurance coverage of Smart car owner Ichiriki Inc.
Aloya's claim against the helmet manufacturer is still pending. Trail in the case is scheduled for November 2016.
Copyright 2020 Associated Press. All rights reserved. This material may not be published, broadcast, rewritten or redistributed.
Was this article valuable?
Here are more articles you may enjoy.