A magnitude 4.6 earthquake has struck in southern Alaska.
The U.S. Geological Survey says the earthquake hit just after 2 a.m. local time on Wednesday and was centered about 48 miles northwest of Valdez and 93 miles east-northeast of Anchorage.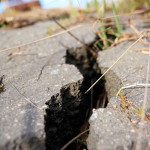 The survey says the quake was about 21 miles (35 kilometers) deep.
Copyright 2020 Associated Press. All rights reserved. This material may not be published, broadcast, rewritten or redistributed.
Was this article valuable?
Here are more articles you may enjoy.