Authorities will step up roundups of drunken-driving fugitives in New Mexico and citizen watchdogs will one day monitor state judges who are routinely lenient on drunken-driving suspects under a plan unveiled Monday by Gov. Susana Martinez.
Speaking in front of state police in Albuquerque, the Republican governor said the new executive orders are designed to crack down on crimes related to drunken driving amid a stalemate in the Legislature to pass tougher anti-DWI laws.
Under the governor's orders, state police will increase its presence along highways in Farmington and Gallup where the state sees its highest drunken-driving related crimes.
Law enforcement agencies around the state also will launch bench-warrant roundups, and the state Department of Corrections' absconder unit will seek out DWI offenders who have violated parole or probation.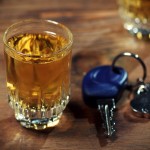 In addition, Martinez said the Department of Transportation will seek proposals to help set up a "court monitoring initiative" that will place monitors in targeted courtrooms to watch how state judges and prosecutors handle DWI cases. The monitoring teams will draft reports for the governor's office.
The announcement comes days after police say a man accused of driving drunk killed three people in Albuquerque. Authorities said he was previously arrested on a DWI charge, but prosecutors failed to make court deadlines and the case was dismissed.
Earlier this year, a state appellate court ruled that an Albuquerque man convicted six times for drunken driving could have his driver's license restored despite small traces of alcohol found in a court-ordered device that prevents him from starting his car.
The monitor project will focus on Bernalillo, Dona Ana, McKinley, Rio Arriba and San Juan counties, Martinez said.
"Today's initiatives will increase law enforcement activity, target the worst of the worst, and hold the justice system accountable for failing to punish DWI criminals," she said.
Martinez said she had no choice but to act because the legislative stalemate was putting motorists at risk. She put the blame largely on Senate Democrats. A spokesman for Senate Majority Leader Michael Sanchez, D-Belen, said a response was being prepared.
Last month, Martinez announced a $300,000 ad campaign featuring police officers telling stories about drunken-driving crashes.
Officials said the state's anti-DWI website will be revamped and information on New Mexico's worst drunken-driving offenders will be publicized.
Department of Public Safety Secretary Greg Fouratt said he was happy the governor was taking steps to fight drunken driving. "It's a blood stain on the reputation of this state," he said.
Copyright 2020 Associated Press. All rights reserved. This material may not be published, broadcast, rewritten or redistributed.
Was this article valuable?
Here are more articles you may enjoy.