Scientists say the fire-damaged forests are more susceptible to landslides, and another week of rain and snow could heighten that risk for eastern Oregon.
The East Oregonian reported that wildfires have stripped away water-soaking vegetation in areas like Canyon Creek, leaving hillsides particularly vulnerable to landslides. Intense rainfall is a common landslide trigger.
Oregon Department of Geology and Mineral Industries information officer Ali Ryan Hansen says people in eastern Oregon should be thinking about the landslide hazard as they go about daily activities.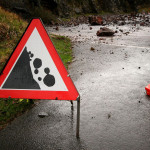 Intense rainfall is a common landslide trigger. The National Weather Service in Pendleton is forecasting a chance of rain or snow every day this week and as much as 2 inches of precipitation in the mountains.
Copyright 2020 Associated Press. All rights reserved. This material may not be published, broadcast, rewritten or redistributed.
Was this article valuable?
Here are more articles you may enjoy.