Two Honolulu council members want ridesharing companies like Uber and Lyft to operate more like taxi companies.
The Honolulu Star-Advertiser reported that the city bill includes a variety of changes. Among them, the measure seeks to broaden the definition of taxi companies while also allowing prices to double during peak use periods, similar to Uber's surge pricing.
It also prohibits Uber and Lyft drivers from estimating fares using GPS to determine distance, and requires them to have dome lights and meters for their cars.
City Council Chairman Ernie Martin and Councilwoman Ann Kobayashi introduced the bill. Kobayashi described the proposed change as a consumer protection measure.
Robert's Taxi owner Robert Deluze says companies had input on the bill, but called surge rates "price gouging."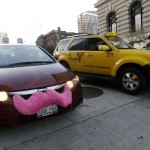 "We've never done that and we shouldn't start," he said. "We are grumbling about Uber doing it and then we want to do the same thing. No way would I support that."
Uber spokeswoman Taylor Patterson says other communities have looked at these types of rule changes. She said Uber and Lyft are technology companies, not taxi companies with fleets of vehicles.
"We don't believe it makes sense to regulate Uber in the same way as taxis," she said. " … It is a different model."
Sen. Lorraine Inouye, D-Hilo, chairs the state's transportation committee, and questions whether the industry should be regulated at the local rather than state level. She says she plans to introduce ride-hailing legislation.
"I think a free market with different products and pricing is in the best interest of the consumers," Inouye said. "There should be regulations, but they should be different than for taxicabs and they should be consistent statewide."
Related:
Copyright 2020 Associated Press. All rights reserved. This material may not be published, broadcast, rewritten or redistributed.
Was this article valuable?
Here are more articles you may enjoy.