The changing excess and surplus insurance landscape was an oft discussed topic on Monday, with experts describing the challenges and opportunities going forward.
"The business that we have and the risk we see is going to be changing. No question."
That comment was made by Greg Ricker, chief information officer at Atlantic Casualty Insurance Co., during the California Wholesalers Insurance Association meeting in San Diego, Calif.
The CIWA conference, which began Sunday and runs through Tuesday, was attended by roughly 150 E&S and insurance experts. It was held at the Hilton La Jolla Torrey Pines.
Ricker's talk was titled "Emerging Issues & Industry Trends." Other panel topics included a California legislative update from John Norwood, CIWA lobbyist and president of Norwood & Associates, and a seminar titled "How to deal with an Employee from Hell," conducted by Kristi Dean and Robyn McKibbon, with Stone/Deal LLP.
Spencer Hamer, a partner in Michelman & Robinson LLP, discussed employees versus independent contractors, contending that recent lawsuits against rideshare giant Uber Technologies Inc. have increased interest in employee classification suits. "These cases are among the most popular for attorneys to take," he said.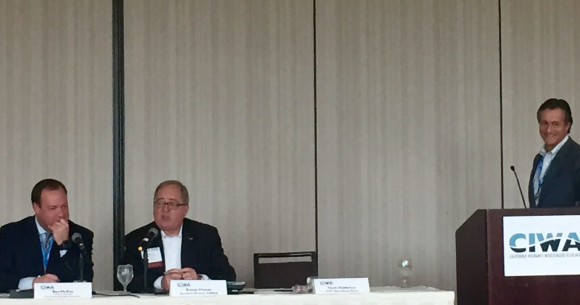 A variety of reasons are driving this interest – including that they can be lucrative and easy to win – but the suits against Uber over whether drivers should be classified as employees or contractors may be a big reason, as they've raised awareness on the part of workers and attorneys, Hamer said.
No Slowdown
One such case — Uber Technologies Inc. v. Berwick — is being heard in the Superior Court of California, County of San Francisco. This case stems from a California Labor Commissioner's ruling in June that Uber driver Barbara Berwick was an employee of the company and not a contractor. The ruling ordered Uber to reimburse Berwick $3,878 for mileage and tolls plus $274 in interest.
"I'm not expecting it to slow down, I'm expecting it to pick up," Hamer said of employment classification suits, which his firm has lately seen more of.
He's also noticed the federal government has become more interested in employee classifications as of late, with the Department of Labor more frequently perusing these cases. "They're sort of on the warpath," he said.
Nicole Zayac, an attorney with Michelman & Robinson, discussed the progress of the National Association of Registered Agents and Brokers Reform Act of 2015, or NARAB II as it is commonly called.
NARAB was overwhelmingly passed last year, but President Obama's administration has yet to act on it despite a 90-day deadline to create a board that would kickstart NARAB II. The act went into effect in January and as outlined in the act's language presidential action on naming a board was supposed to occur by April 2015.
"We still don't have NARAB, we're waiting on implementation," she said. "Mainly we're waiting on a board."
Bernie Heinze, executive director of the American Association of Managing General Agents, later in the day during a luncheon said NARAB II would help insurance consumers by streamlining the process and possibly lowering costs.
However, "the holding pattern" is denying consumers these benefits because of the delays.
"This is hurting policy holders," he said.
NARAB was one of the many topics of discussion at luncheon discussion moderated by Hank Haldeman, executive vice president and director with The Sullivan Group, president of the National Association of Professional Surplus Lines and a past president of CIWA.
Beside Heinze also on the panel was Ben McKay, executive director of the Surplus Line Association of California.
Both Heinze and McKay discussed efforts to enlighten members of congress about the role surplus lines should play in flood insurance and other matters. Both described the efforts just to educate legislators about what surplus lines are, and the steps they are taking to lobby on behalf of the industry.
"We need to be out in front on these things," Heinze said.
Both men are also dealing the ramifications of the newly created Federal Insurance Office, which was established by the Dodd-Frank Wall Street Reform and Consumer Protection Act.
FIO was created as a non-regulatory body, but both Heinze and McKay said the entity is acting as a regulator. FIO is making data calls on the insurance industry to gather information – much like state regulators – and it can enter into covered agreements with other countries.
"They're not a regulator, but they can create regulations without much oversight," McKay said.
Heinze said he has been looking for ways to make these data calls less onerous.
"We're in for some long hauls in regards to data that the federal government is going to look for," he said.
Heinze said that despite the regulatory challenges for the surplus industry, there are many opportunities.
"It's the best time in the world to be in the E&S business," he said.
Related:
Was this article valuable?
Here are more articles you may enjoy.