The National Weather Service says a small tornado touched down in Ventura County, Calif. during last week's powerful El Niño-driven storms.
Meteorologists conducting a storms survey determined the tornado swept through a half-mile swath of Fillmore during the morning of Jan. 6. It was about 200 feet at its widest point.
The weather service said that the tornado packed winds between 65 mph and 85 mph and snapped tree limbs in Bardsdale Cemetery.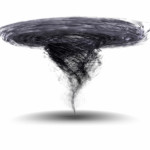 A series of storms brought heavy rain, hail and high winds to California for much of last week.
Copyright 2017 Associated Press. All rights reserved. This material may not be published, broadcast, rewritten or redistributed.