An early morning earthquake rattled Hawaii's Big Island, the U.S. Geological Survey said.
The USGS reported the magnitude 3.9 struck at 1:52 a.m. on Monday and was centered about 35 miles southwest of Hilo, near the Mauna Loa Observatory.
Only a handful of people reported feeling the temblor on the USGS website.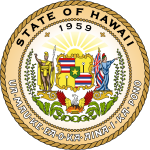 A dispatcher with the Island of Hawaii Police Department said no one has reported any damage because of the quake.
Copyright 2017 Associated Press. All rights reserved. This material may not be published, broadcast, rewritten or redistributed.