Alameda County, Calif. fire officials say a hoverboard was found in the area where a fire sparked at a San Leandro home.
KRON-TV reported that firefighters responded over the weekend to reports of a fire at a two-story home. No one was at the home and no injuries were reported. A hoverboard was found on the first floor and had been charging since Friday evening.
Fire investigators say they have not determined the cause of the blaze, but that they will be contacting the U.S. Consumer Product Safety Commission about the fire.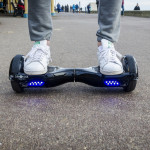 Hoverboards have drawn criticism in recent months, as reports have come out across the country of the two-wheeled, self-balancing, battery-powered devices bursting into flames. Two fires in Sonoma County in January have been attributed to hoverboards.
Related:
Was this article valuable?
Here are more articles you may enjoy.