A program that has allowed U.S. coal companies to forego cleanup insurance on massive western mines is flawed and needs to be fixed, Wyoming officials have told federal regulators.
Coal companies must restore the land around spent mines, but roughly $3.6 billion in liabilities could fall to taxpayers under a subsidy called 'self bonding' that allows large coal companies to go without some cleanup insurance, federal officials have warned.
Coal operator Alpha Natural Resources Inc left behind more than $670 million in self-bond liabilities in Wyoming and West Virginia when it filed for bankruptcy in August, and federal officials have asked states to explain how they will brace for such a hit.
The self-bonding program has "certain systemic problems … to be addressed individually and in a timely manner," Wyoming's Department of Environmental Quality notified federal regulators in a letter sent last week and made public on Tuesday.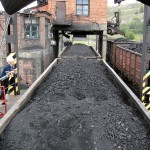 Wyoming officials broadly defended their handling of coal bankruptcies in the letter to the Office of Surface Mining Reclamation and Enforcement (OSMRE) which this week began to formally scrutinize how Peabody Energy Corp, the nation's largest coal producer, has made use of self bonding.
OSMRE on Tuesday asked regulators in three western states to examine whether Peabody qualifies for the self-bond subsidy in those states. Officials in Colorado, Wyoming and New Mexico must respond to OSMRE within two weeks.
Under an agreement with Alpha in the bankruptcy court, Wyoming has priority for only $61 million in cleanup funds – far short of what officials expect is required.
In December, Interior Secretary Sally Jewell told Congress that self bonding was "a big issue."
The coal industry has been rocked by several high-profile bankruptcies as debt-laden companies struggle to stay afloat at a time of weak global demand for the black rock and tougher environmental controls.
(Reporting by Patrick Rucker; Editing by Leslie Adler and David Gregorio)
Was this article valuable?
Here are more articles you may enjoy.