The organizers of Salt Lake Comic Con and San Diego Comic-Con say they're getting closer to settling a court battle over naming rights.
Attorneys for the two pop-culture conventions say they have been able to resolve many of their disagreements and are working on the remaining sticking points. Court documents filed in California show they asked a federal judge to give them more time to work on a possible agreement.
San Diego Comic-Con, considered the flagship of the popular convention circuit, filed a trademark violation lawsuit against the rapidly growing Salt Lake convention in August 2014.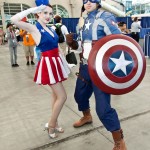 San Diego's organizers say they have legal ownership of the term "comic con" in all its forms, but Salt Lake says it's a general term used around the country.
The U.S. Patent and Trademark office is currently withholding judgment.
Related:
Copyright 2020 Associated Press. All rights reserved. This material may not be published, broadcast, rewritten or redistributed.
Was this article valuable?
Here are more articles you may enjoy.