A longshot proposal introduced this week would make California the first state to allow rideshare drivers and all other independent contractors to unionize.
The legislation comes one week after the U.S. Chamber of Commerce sued Seattle over the nation's first city ordinance allowing for-hire drivers to organize labor coalitions.
Assemblywoman Lorena Gonzalez, D-San Diego, authored the California proposal to allow "gig" workers not formally recognized as employees to jointly negotiate their pay and working conditions. The proposal would open the door to unionized truck drivers, real estate agents, barbers, fundraisers and other independently contracted workers operating on a single platform.
Federal law does not extend collective bargaining rights to independent contractors. Attorneys for the U.S. Chamber have invoked those federal antitrust and labor laws to fight the Seattle ordinance.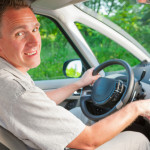 Gonzalez and her legal adviser, labor attorney Rich McCracken, believe the states have the right to supervise a process by which independent contractors would be able to organize.
The Internet Association, whose members include most major cloud and mobile application-based businesses, opposed the proposal Wednesday.
Michael Beckerman, president and CEO of the association, said in a statement that individuals are already offered flexible earning opportunities within the "sharing economy."
"Independent contractors are prevalent in every industry, but this proposal unfairly targets the Internet sector in a way that could hurt the very people it purports to help," Beckerman said in the statement. The association's members include Google, Facebook, PayPal, Amazon, Uber, Lyft and other companies that rely on the Internet and new technology to do business.
"I don't know in our history a time when we've had businesses say: 'That's great, let's have workers unionize,'" Gonzalez said.
Uber and Lyft, organizations that allow riders to hail a driver using a mobile application, opposed Seattle's ordinance.
"We share Assemblywoman Gonzalez's dedication to workers and agree with the starting point that people engaging with platforms are independent contractors," Lyft spokeswoman Chelsea Wilson wrote in a statement.
Gonzalez's bill has one co-author, Democratic state Senator Benjamin Allen of Santa Monica.
Related:
Copyright 2021 Associated Press. All rights reserved. This material may not be published, broadcast, rewritten or redistributed.
Was this article valuable?
Here are more articles you may enjoy.