Insurance Commissioner Dave Jones wants California drivers know about the department's online tool that helps consumers shop for different insurers based on price.
The tool is now being launched by the California Department of Insurance is designed to enable consumers to "quickly and easily make apple to apple comparisons of average premium rates from both national and local auto insurance companies," a statement from CDI reads.
Consumers can use this tool to identify insurers with the lowest average premium and then contact the company directly for a quote.
"Consumers know the insurers that advertise on television and radio, but they may not know about the companies that serve their neighborhood and may offer a lower price," Jones said in a statemment. "The auto rate price comparison tool shows consumers all the insurers that write policies in the area and the average premium prices. Consumers can identify the lowest prices and contact the company for a quote. Often, it pays to shop around."
An anecdote CDI offered:
A Santa Monica-area married couple using the tool to shop for standard insurance might find that their average premium options range from $2,762 to $10,036 annually. That is a price difference of more than $7,200. In Sacramento a single female shopping for standard insurance might find-after providing relevant data-that her average premium options range from $1,639 to $11,008 annually, a price difference of $9,369.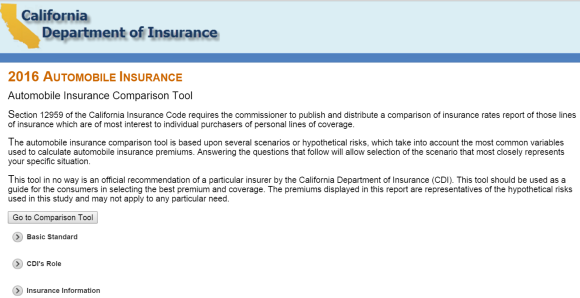 The prices on the comparison tool do not include the consumer's available credits or discounts, but it has a discounts tab allowing access to review discounts offered by each insurer, based on the consumer's specific profile. The tool also has a complaint page where consumers may view complaints about each insurer over the last three years.
While this tool does not provide actual premium quotes, each company's average premium is followed by a toll-free number for consumers to contact an insurance agent, ask questions about available discounts or credits and receive an actual premium quote.
Related:
Topics Carriers California
Was this article valuable?
Here are more articles you may enjoy.