Officials say no one was hurt in a small kitchen fire at a restaurant at the Treasure Island hotel-casino property on the Las Vegas Strip.
Casino spokeswoman Michelle Knoll said the grease fire in the Senor Frog's Restaurant and Bar started shortly after 10 a.m. on a stove that was preparing food.
The kitchen area has self-extinguishing technology that contained the flare immediately.
The fire did sound the alarms, which prompted a large fire department response.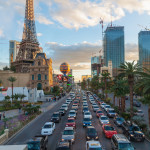 The Clark County Fire Department said the flame above the fryer caused smoke and the restaurant was evacuated.
No one was hurt.
The rest of the Treasure Island property wasn't affected.
Senior Frogs is typically not open until the afternoon but it was operating early Friday for customers viewing the NCAA basketball tournament.
Related:
Copyright 2021 Associated Press. All rights reserved. This material may not be published, broadcast, rewritten or redistributed.
Topics Restaurant
Was this article valuable?
Here are more articles you may enjoy.