A drone has delivered a package to a residential location in a small western Nevada town in what its maker says is the first fully autonomous, federally approved urban drone delivery in the United States.
Flirtey CEO Matt Sweeney announced Friday the six-rotor drone flew itself about one-half mile and lowered the package outside a vacant residence in Hawthorne, about 140 miles southeast of Reno.
The route was preprogrammed using GPS. Sweeney says a pilot was on standby as a backup to the autonomous system, but wasn't needed during the March 10 delivery.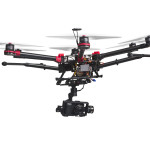 Flirtey conducted the first FAA-approved drone delivery last July, a series of medical deliveries to a rural health care clinic in Virginia.
Sweeney says the Nevada delivery shows drones can safely navigate around buildings and deliver packages within a populated area.
Related:
Copyright 2021 Associated Press. All rights reserved. This material may not be published, broadcast, rewritten or redistributed.
Topics Nevada
Was this article valuable?
Here are more articles you may enjoy.