A minor earthquake hit northwest Washington state on Tuesday morning.
The U.S. Geological Survey and the Pacific Northwest Seismic Network reported that the 3.5-magnitude temblor hit at 11:06 a.m. in the Strait of Juan de Fuca, Washington. It was about 32 miles deep, the USGS reported.
The earthquake's epicenter was about 8 miles from Ault Field, the Naval Air Station on Whidbey Island.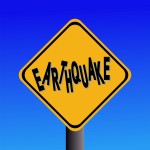 Within a half an hour, 35 people in Victoria, British Columbia, Canada, and 10 in Coupeville, Washington reported to the USGS that they felt it.
Copyright 2020 Associated Press. All rights reserved. This material may not be published, broadcast, rewritten or redistributed.
Was this article valuable?
Here are more articles you may enjoy.