A bicyclist who collided with former Seattle City Councilwoman Sally Clark as she drove to a speaking engagement is being paid $400,000 under the terms of a settlement.
The Seattle Times reported that the city is on the hook for $375,000, because Clark's insurance only covered up to $25,000.
Electrician Steve Fairbanks initially sought $2.5 million. He was biking in Tacoma in May 2012 when Clark's sport-utility vehicle turned in front of him. He suffered a severely broken leg.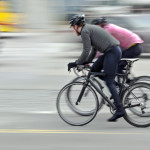 The Seattle City Attorney's Office determined she was on official business at the time of the crash.
Clark, who served on the council for nearly a decade, resigned last year to take a job with the University of Washington.
Copyright 2019 Associated Press. All rights reserved. This material may not be published, broadcast, rewritten or redistributed.
Was this article valuable?
Here are more articles you may enjoy.