Elements of California's workers' compensation reform law passed in 2012 may have contributed to the state's 2013 and 2014 decreases in medical payments per workers' comp claim, according to a study from the Workers Compensation Research Institute.
The study, CompScope Benchmarks for California, 16th Edition, focuses on income benefits, overall medical payments, costs per claim, duration of disability, litigiousness, benefit delivery expenses, timeliness of payment, and other metrics.
Medical payments per claim with more than seven days of lost time in California dropped 4 percent in 2013, followed by another 3 percent drop in 2014 for claims with 12 months of experience, the study shows
California and North Carolina were the only two states among the 18 WCRI studied to see medical payments per claim decrease in that period.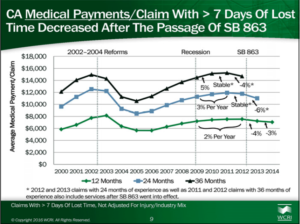 California Senate Bill 863 was passed in 2013 and took effect in 2013. It reduced the fee schedule rates for ambulatory surgery centers, and eliminated separate reimbursement for implantable medical devices, hardware, and instruments for spinal surgeries.
SB 863 began a transition to a professional services fee schedule based on the resource-based relative value scale. The law also required a $150 lien filing fee and a $100 activation fee for liens already filed.
California's indemnity benefits per claim with more than seven days of lost time grew 5 percent in 2014/2015, similar to the median increase found in the 18 states WCRI studied. The 2014/2015 timeframe refers to claims with injuries arising from Oct. 1, 2013, to Sept. 30, 2014, with experience through March 31, 2015.
Indemnity benefits per claim grew roughly 2 percent annually between 2009 and 2013 in California, but the rate increased in 2014.
The WCRI believes this may reflect the early impact of the SB 863 increases to weekly permanent disability benefits for injured workers.
Other of the study's findings show:
California had higher costs per claim than other study states.
California's benefit delivery expenses per claim increased moderately after 2009 for claims with more than seven days of lost time and these expenses; the trends did not show material differences pre- and post-reform for these claims with experience through March 2015.
To purchase this study, visit the WCRI website.
Related:
Was this article valuable?
Here are more articles you may enjoy.