A former California Legislator on Monday pleaded guilty to crimes that included accepting bribes, some related to alleged bribes involving workers' compensation fraud.
Former Democratic Assemblyman Tom Calderon pleaded guilty to one felony count of money laundering as part of an agreement in which federal prosecutors offered to seek a prison sentence of no more than 12 months, according to a report in the L.A. Times.
His conviction carries up to 20 years in prison, but prosecutors are requesting that he get no more than one year when he's sentenced in September.
The plea settles his part of a criminal case that includes his brother, former state Sen. Ron Calderon, who allegedly accepted bribes, according to a court filing released Monday by the U.S. attorney's office.
Ron Calderon is accused of accepting a bribe from a hospital executive in Southern California who ran an alleged workers' comp scheme. Ron Calderon has pleaded not guilty and there is no plea agreement in his case, officials said Monday.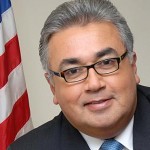 Tom Calderon admitted to hiding bribes his brother reportedly accepted in exchange for supporting legislation to expand tax credits for the film industry, according to the plea agreement. The legislation was never passed. The bribes came from an undercover FBI agent posing as movie studio owner.
Ron Calderon also is charged with accepting bribes from a former hospital owner to preserve a state insurance law that the government says helped the owner maintain a long-running and lucrative health care fraud scheme. The law was later repealed. At the time the investigation was launched Ron Calderon chaired the Senate Insurance Committee. He is alleged to have accepted bribes from Michael Drobot, who ran a spinal surgery clinic in Long Beach.
According to an FBI affidavit from 2013, Ron Calderon concealed bribe payments from Drobot through his brother, and his son, Zachary, a student at Berklee College of Music in Boston. Tom Calderon received a monthly consulting fee of at least $10,000 from Drobot, plus a one-time payment of $1 million. The affidavit says Drobot paid $28,000 to Ronald Calderon through his son, who worked a summer job at Drobot's hospital, although most of the money went directly into the state senator's bank account.
Drobot pleaded guilty on March 4 to allegations of conspiracy and illegal kickbacks, the L.A. Times reported. According to the report, authorities say dozens of doctors and chiropractors were illegally paid to send patients to Pacific Hospital, which resulted in $600 million in fraudulent billings over eight years, most of which was paid out in workers' comp insurance.
Related:
Was this article valuable?
Here are more articles you may enjoy.