A company that manufactures passenger-carrying drones will be testing its system in Nevada.
The Las Vegas Review-Journal reported that EHang Inc., which is headquartered in Guangzhou, China, is partnering with the Nevada Institute for Autonomous Systems to test and develop the smartphone-directed drone service.
In EHang's drones, passengers would enter a destination into the system's accompanying app and then take off in the autonomous vehicle.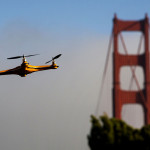 Institute officials announced the partnership last week, saying EHang will initially just move a small crew to the state for testing. They say it is too early to say whether the company will eventually establish a more permanent presence in the state.
EHang expects to begin testing in Nevada later this year.
Related:
Copyright 2021 Associated Press. All rights reserved. This material may not be published, broadcast, rewritten or redistributed.
Was this article valuable?
Here are more articles you may enjoy.