The United States Attorney for the Central District announced on Monday that former California State Sen. Ronald S. Calderon has agreed to plead guilty to a federal corruption charge.
Calderon admitted in a plea agreement filed on Monday that he accepted tens of thousands of dollars in bribes in exchange for performing official acts as a legislator. The plea comes nearly three years after a California Department Insurance investigation was launched to look into allegations of a workers' compensation scheme that involved hundreds of millions of fraudulent charges.
Calderon, 58, agreed to plead guilty to one count of mail fraud through the deprivation of honest services to resolve a case against him that was filed in 2014. The plea agreement comes weeks before he was scheduled to go on trial.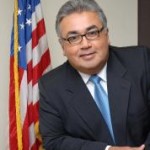 In the plea agreement, Calderon admitted accepting bribe payments from the owner of a Long Beach hospital who wanted to prevent passage of a new law that would stop the hospital CEO from continuing to reap millions of dollars in illicit profits from a separate workers' compensation insurance fraud scheme and from undercover FBI agents who were posing as independent filmmakers who wanted changes to California's Film Tax Credit program.
Michael Drobot, former owner of Pacific Hospital in Long Beach, a major provider of spinal surgeries billed to the workers' comp system, admitted to bribing Calderon to influence lawmaking and ensure he could continue to defraud workers' compensation insurers with his lucrative criminal scheme.
Calderon's brother is former Assemblyman Tom Calderon, who pleaded guilty last week to one felony count of money laundering as part of an agreement in which federal prosecutors offered to seek a prison sentence of no more than 12 months.
Tom Calderon admitted to hiding bribes his brother reportedly accepted in exchange for supporting legislation to expand tax credits for the film industry, according to a plea agreement. The legislation was never passed. The bribes came from an undercover FBI agent posing as movie studio owner.
According to an FBI affidavit from 2013, Ron Calderon concealed bribe payments from Drobot through his brother, and his son, Zachary, a student at Berklee College of Music in Boston. Tom Calderon received a monthly consulting fee of at least $10,000 from Drobot, plus a one-time payment of $1 million. The affidavit says Drobot paid $28,000 to Ronald Calderon through his son, who worked a summer job at Drobot's hospital, although most of the money went directly into the state senator's bank account.
Drobot pleaded guilty on March 4 to allegations of conspiracy and illegal kickbacks, the L.A. Times reported. According to the report, authorities say dozens of doctors and chiropractors were illegally paid to send patients to Pacific Hospital, which resulted in $600 million in fraudulent billings over eight years, most of which was paid out in workers' comp insurance.
Following the Ron Calderon announcement on Monday, Insurance Commissioner Dave Jones noted that the corruption investigation began when detectives at the California Department of Insurance discovered evidence that Drobot was bribing him.
"Detectives from the California Department of Insurance successfully investigated the scheme whereby Drobot was paying kickbacks to physicians, chiropractors and others to send him patients on which his hospital performed back surgeries — resulting in over $500 million of workers' compensation fraud," Jones said in a statement.
Related:
Was this article valuable?
Here are more articles you may enjoy.