Kitsap Transit has settled a lawsuit with a Washington woman who was hit by a bus while riding her bicycle near Poulsbo.
The Kitsap Sun reported the Washington State Transit Insurance Pool, of which Kitsap Transit is a member, settled with Andrea Opalenik for $2.75 million.
Court documents say Opalenik was riding north on State Route 305 in May 2014 when she was struck by a Kitsap Transit bus driving in the same direction.
The lawsuit alleges as a result of the driver failing to maintain a proper lookout and yield the right of way, Opalenik sustained injuries including neurological impairment.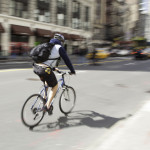 Kitsap Transit spokesman Sanjay Bhatt called the incident a tragic accident. He says their investigation found the driver was not responsible for the crash and says they settled to avoid the uncertainty of a trial.
Opalenik's attorney declined to comment.
Copyright 2021 Associated Press. All rights reserved. This material may not be published, broadcast, rewritten or redistributed.
Topics Washington
Was this article valuable?
Here are more articles you may enjoy.