The city of Seattle, Wash. has paid $3.5 million to the family of a bicyclist who died two years ago in a collision with a truck in downtown Seattle.
The Seattle Times reported the payment resolves a claim that the city's "failure to prepare an adequate traffic-control plan created dangerous conditions for bicyclists."
Sher Kung, a 31-year-old attorney, was biking on Second Ave when she was struck by a truck making a left turn. It happened less than two weeks before the city planned to make major bicycle-safety improvements to the Second Avenue bike lane.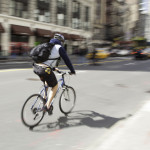 City staff and David Whedbee, a lawyer for Kung's fiancée, said a confidentiality agreement prevented them from discussing settlement details.
A city official says a check sent June 21 represents only its share of the settlement, which includes other parties. The city would not identify the other parties.
The truck driver was not charged.
Copyright 2021 Associated Press. All rights reserved. This material may not be published, broadcast, rewritten or redistributed.
Topics Washington
Was this article valuable?
Here are more articles you may enjoy.