Western Growers has named Sean Reardon a sales executive.
Reardon will join the property/casualty insurance team, with a focus on expanding Western Growers' client base in Southern California and providing risk management solutions to new and existing customers.
Reardon has more than 12 years of experience. He most recently worked for a brokerage firm, where he was responsible for designing risk management programs for middle market clients.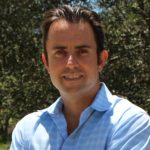 His industry expertise includes manufacturing, food processing, food distribution and life sciences.
Western Growers represents local and regional family farmers growing produce in Arizona, California and Colorado.
Was this article valuable?
Here are more articles you may enjoy.