Honolulu Mayor Kirk Caldwell is allowing a bill placing stricter regulations on ridesharing companies such as Uber and Lyft to become law.
Caldwell returned the bill to the City Council and cited logistical concerns in allowing it to become law without his signature. The council approved the measure Aug. 3, The Honolulu Star-Advertiser reported.
Caldwell says in a letter that he supports having the council establish regulations for both taxi cab and transportation network companies so there is a "level playing field" of competition.
The bill requires both taxi and ride-hailing drivers to pay a fee to obtain a city-issued certificate to operate. Drivers will also be subject to background checks every two years.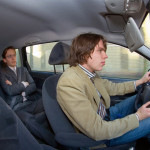 While Caldwell has shown support for some parts of the measure, he did take issue with the Jan. 15 start date for the new law.
"It is not possible to complete the rules in this time frame, even if there are no challenges to the proposed rules," Caldwell said. It "does not give the Department of Customer Services adequate time to draft well thought out administrative rules," including a public hearing process required under state law.
Caldwell said he wants his administration to work with council members to make changes to the bill and draft administrative rules.
Related:
Copyright 2021 Associated Press. All rights reserved. This material may not be published, broadcast, rewritten or redistributed.
Topics Legislation Ridesharing
Was this article valuable?
Here are more articles you may enjoy.