Officials say a Las Vegas construction worker has died after a scaffolding collapse.
Las Vegas Fire & Rescue says the scaffolding collapsed at a Tivoli Village construction site on Monday afternoon. One man fell with the scaffolding and was pronounced dead at the scene.
Fire officials say two other workers jumped to safety and were not hurt.
The Occupational Safety and Health Administration is investigating.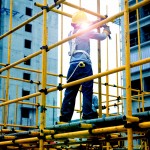 The Clark County Coroner's Office will release the identity of the dead construction worker once his family has been notified.
Tivoli Village management says it is saddened by the incident and will stop construction while officials investigate.
Copyright 2021 Associated Press. All rights reserved. This material may not be published, broadcast, rewritten or redistributed.
Topics Construction
Was this article valuable?
Here are more articles you may enjoy.