A series of minor earthquakes rattled a rural area of Southern California near the U.S.-Mexico border this week, the U.S. Geological Survey reported.
No injuries or damage were reported after more than 35 temblors struck in the morning in what seismologists call a "swarm" of quakes.
The largest of the quakes on Monday recorded by the USGS was magnitude 4.3 at 7:31 a.m. and was centered 35 miles (58 kilometers) northwest of El Centro.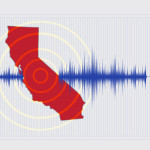 According to the Southern California Seismic Network, more than 35 small earthquakes were recorded Monday in the area over a short period.
The region of large farms in the desert near the Salton Sea is known for extensive seismicity.
Copyright 2019 Associated Press. All rights reserved. This material may not be published, broadcast, rewritten or redistributed.
Was this article valuable?
Here are more articles you may enjoy.