Two people from California were arrested on a scheme allegedly involving the reported theft of an expensive classic car.
Constantine Petros, 54, of Petaluma, was arrested on Oct. 19 in Sonoma County. Also arrested was Christopher Hatton, 60, of Tahoma, who surrendered himself to Placer County Superior Court on Nov. 14.
Both were charged with multiple felony counts of insurance fraud and conspiracy for filing a false insurance claim for the alleged theft of a classic 1955 Porsche 356 Speedster.
After receiving a suspicious claim referral from Farmers Insurance, the California Department of Insurance fraud division launched an investigation into circumstances surrounding Hatton's claim that his $250,000 collectable 1955 Porsche 356 Speedster was stolen in Nevada while he attended the area's annual rib cook-off.
The investigation revealed a connection between Petros and Hatton and an alleged conspiracy to file a false insurance claim for a stolen collectible Porsche that Hatton never owned and was not stolen.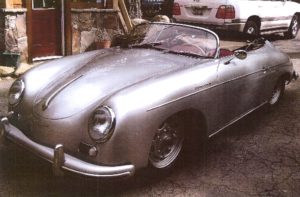 The alleged scheme began with Petros and Hatton creating a fraudulent paper trail showing Hatton purchased a 1955 Porsche 356 Speedster. Petros then reportedly provided a different Porsche so Hatton could secure an appraisal documenting the value of the collectible car.
The investigation revealed the vehicle identification number was altered on the Porsche to make it appear as a different 1955 Porsche 356 Speedster. Using the Porsche with the altered VIN, Hatton was able to secure a vehicle appraisal value of $250,000. Hatton then used the appraisal to obtain an insurance policy for the collectible Porsche. On Sept. 4, Hatton reported the Porsche 356 Speedster stolen to police and Farmers Insurance, according to investigators.
If convicted on all counts, Petros and Hatton could face more than five years in prison. The case is being prosecuted by the California Attorney General's Office.
"Petros and Hatton allegedly went to great lengths to weave an elaborate scheme in an attempt to defraud Farmers Insurance out of $250,000," Insurance Commissioner Dave Jones said in a statement. "Solid investigative work by department detectives stopped them in their criminal tracks."
Was this article valuable?
Here are more articles you may enjoy.