California's central coast was rattled overnight by a 3.9-magnitude earthquake.
San Luis Obispo County Sgt. Dave Nottenkamper says he felt a single sharp jolt just before 4 a.m. Wednesday.
The U.S. Geological Survey says the quake's epicenter was about five miles west of the small town of Templeton, 13 miles north of Morro Bay and 340 miles south of Sacramento.
The sergeant says there have been no reports of damage or injury.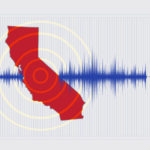 Late Tuesday to the northeast a 3.9-magnitude quake struck in Mono County near the Mammoth Mountain ski resort.
The USGS says that quake occurred at 11:44 p.m. two miles from the town of Mammoth Lakes and 70 miles from Clovis.
Copyright 2021 Associated Press. All rights reserved. This material may not be published, broadcast, rewritten or redistributed.
Topics California
Was this article valuable?
Here are more articles you may enjoy.