Roughly 50,047 single- and multi-family residential homes could be damaged with an estimated reconstruction cost value of $13.3 billion if the Oroville Dam in California were to fail completely, according to new data analysis from CoreLogic that included the six primary counties in that area.
Fears of flooding from the nation's tallest dam, which reaches 770 feet, prompted evacuation orders for nearly 200,000 people.
Water from the storm-swollen lake behind the dam spilled down the unpaved slope over the weekend, eroding the slope to the point that authorities fearing a breach and ordered the evacuations.
On Monday the water level behind the dam fell. However, with more rain forecast area residents were being advised to stay out of their homes.
It was learned this week that environmental activists and local government officials warned more than a decade ago about the risk of catastrophic flooding below the dam.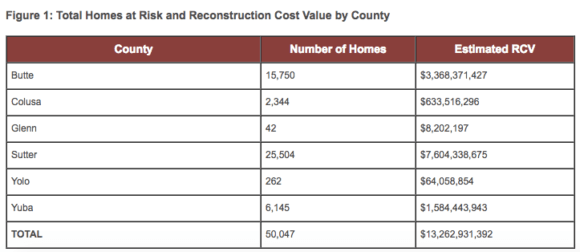 CoreLogic's reconstruction value reflects the cost to rebuild a property assuming 100 percent destruction.
Of the at-risk homes, only 12 percent are in a Special Flood Hazard Area as designated by the Federal Emergency Management Agency.
Homes with a mortgage identified as in an SFHA are required to carry flood insurance, but many homeowners do not carry flood insurance if they are not required to do so, according to CoreLogic.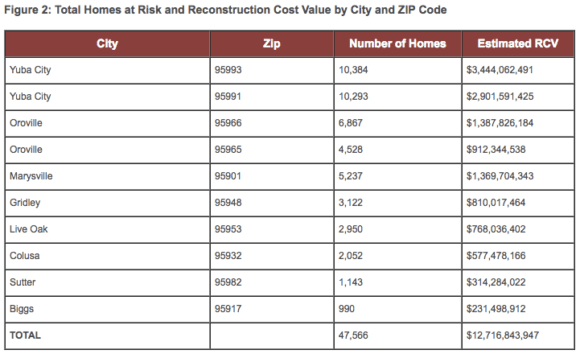 The majority of homes at risk are between 20 and 60 miles from the dam, totaling 33,967 properties with an estimated reconstruction value of $9.8 billion.
There are another 16,080 homes at risk of damage less than 20 miles from the dam with an estimated reconstruction of $3.5 billion.
The analysis encompasses single-family residential structures and also includes mobile homes, duplexes, manufactured homes and cabins, among other non-traditional home types.
Was this article valuable?
Here are more articles you may enjoy.