Arizona drivers used to paying nothing when their car windshields are cracked or shattered by rocks appear likely to keep the insurance coverage for at least another year.
That's because an effort by insurance companies to remove a requirement that they provide optional free glass replacement with full coverage auto policies appears dead for the Legislative session.
The bill by Republican Sen. Karen Fann of Prescott was the latest insurance industry effort targeting auto glass repair companies.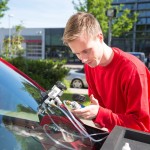 Fann said she could not get insurance and auto glass companies to agree, so her effort is dead for the year. Another lawmaker could possibly amend the language onto another bill, but Fann says she won't try.
Insurance companies say zero-deductible replacement has led to overuse and fraud.
Copyright 2023 Associated Press. All rights reserved. This material may not be published, broadcast, rewritten or redistributed.
Was this article valuable?
Here are more articles you may enjoy.