The heavy snowfall so far this winter in parts of central and western Wyoming has forecasters looking at potential spring flooding in some major watersheds that haven't seen it in decades.
National Weather Service hydrologist Jim Fahey in Riverton says parts of the Upper Green, Sweetwater and Snake river basins are seeing unusually high snowpacks and potential runoffs.
He says the Upper Green and Snake basins haven't seen this situation since the mid-1990s.
Statewide, the snowpack across Wyoming this week is 132 percent above the median for this time of year.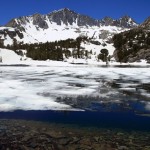 The snowpack in the Sweetwater River Basin is a whopping 219 percent of median.
More snow was falling Thursday in the western mountains, where a winter storm warning was posted through today.
Copyright 2020 Associated Press. All rights reserved. This material may not be published, broadcast, rewritten or redistributed.
Was this article valuable?
Here are more articles you may enjoy.