Colorado workers' compensation insurer Pinnacol Assurance is distributing $50 million in dividend checks this month to its policyholders.
More than 53,000 employers throughout the state — roughly 94.2 percent of the company's policyholders — will receive a dividend in recognition of maintaining safe workplaces.
Dividend checks are calculated based on the policyholder's premium size and performance. The average 2017 dividend check will be $941. Checks will be delivered to employers in March and April.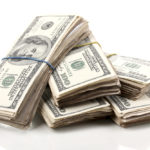 This is the second consecutive year Pinnacol has issued a general dividend. With the 2017 declaration, Pinnacol has now returned $556 million in total general dividends to Colorado employers.
"This dividend is possible because of our policyholders' commitment to the safety and well-being of their employees, Pinnacol's financial stability and strength, and a vibrant Colorado economy," Phil Kalin, Pinnacol president and CEO, said in a statement.
Was this article valuable?
Here are more articles you may enjoy.