A former Jackson County commissioner accused in a lawsuit of bilking investors to finance a pot shop has filed a counterclaim.
Doug Breidenthal filed the lawsuit contending his professional reputation has been damaged, the Mail Tribune reported. "As a result of plaintiff's defamation, Breidenthal suffered and continues to suffer from humiliation, stress, and anxiety," the lawsuit says.
Breidenthal is seeking about $300,000 plus $24,000 a month in lost profits from Greg Allen, Larry Nelson and Mary Nelson. Those three in a lawsuit filed last month in Jackson County Circuit Court are seeking a combined $529,000 and contend Breidenthal committed elder abuse and breached fiduciary duty.
Breidenthal said that as a result of the lawsuit he's unable to find work in the marijuana industry and was fired from one job. He lost his bid for re-election to the county commission in the primary last year.
The lawsuit also contends that Allen, 53, and the Nelsons, a married couple from Prescott, Arizona, in their 80s, have defamed him.
"On information and belief, plaintiff Allen is contacting Breidenthal's professional acquaintances by letter and telephone in a coordinated effort to disparage Breidenthal's reputation and impair his ongoing business relationships," the counterclaim says.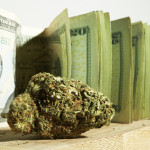 American Cannabis Co. was scheduled to open in February, but the Nelsons and Allen confronted Breidenthal. They said Breidenthal locked them out after a meeting with an attorney to resolve problems they found when examining business documents
Allen said the problems included Breidenthal being the only person listed with two businesses associated with American Cannabis Co., and that Breidenthal's name is the only one on an Oregon Liquor Control license for the pot shop.
Allen said he approached Breidenthal last spring looking for someone local who could introduce him to others in the marijuana industry. Allen has been involved in marijuana ventures in Arizona since 2009 and in Rogue Valley Remedies LLC in Medford.
The Nelsons say they gave Breidenthal $150,000, and are seeking triple damages of $450,000 under Oregon's Elder Abuse Statute.
The Oregon Government Ethics Commission is examining several complaints against Breidenthal. One has to do with a campaign account, and the other is about cash payments Briedenthal allegedly received for marijuana consulting while a commission member.
An attorney for Allen and the Nelsons said he agreed with Breidenthal's attorneys not to discuss the case while negotiating to appoint a receiver to oversee disputed assets.
Copyright 2020 Associated Press. All rights reserved. This material may not be published, broadcast, rewritten or redistributed.
Was this article valuable?
Here are more articles you may enjoy.