John F. Sullivan Jr. had a passion for insurance, doing business and sailing.
Jack Sullivan died on March 19 at age 83 after a long career in insurance.
Jack was born Oct. 7, 1933 in Spokane, Wash. to John F. Sullivan and Elizabeth Yater Sullivan. They moved to Olympia and then Seattle, where brothers Jerry and Bill joined the family.
Jack attended St. Therese School, Seattle Prep, University of Santa Clara, and Seattle University (ROTC), where he graduated with a degree in accounting. While at Seattle University Jack met Marion E. Edwards and they were married in 1956. Four children followed in the next eight years: Louise, Patty, Michael and Charlie.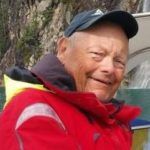 He worked in the insurance industry for several years before joining the family firm, John F. Sullivan Co., a reinsurance brokerage firm, in 1963. Jack became president of John F. Sullivan Co. before it was sold. He later teamed up with his brother, Jerry at Gerald J. Sullivan Co. Reinsurance.
Jerry Sullivan is active in California's wholesale community and continues to head the Sullivan Group in Los Angeles, a consortium of independent insurance-related companies.
Jack nominally retired in the mid 1990's, but he remained a serial entrepreneur for the rest of his life. His most recent venture was in partnership with son Michael and others.
After spending a year in Toronto launching a branch office of JFSCo, Jack and Marion built a house on Meydenbauer Bay in Bellevue and later a houseboat on Lake Union. Jack and Marion were rarely far from the water in the latter half of their life together. Beginning in the 1990s they carved out sailing time every summer. They spent months exploring the Salish Sea and beyond. Adventures to Alaska, Haida Gwaii and the west coast of Vancouver Island were highlights.
Jack and Marion supported Catholic charities and schools in the Seattle area, notably Seattle University, Holy Names, Forest Ridge and the Archdiocesan Housing Authority. He often lent his insurance expertise to these and other organizations. He was also at various time a member of many of the local social and business organizations.
He is survived by his wife, Marion, children Louise (Domenic) Sportelli, Patty Stanford, Michael (Paula Anderson) and Charlie, grandchildren Emily and Thomas Stanford and Daniel, Kate and Anya Sullivan and brother, Jerry (Wendy).
Was this article valuable?
Here are more articles you may enjoy.