A Southern California jury awarded $2 million to the granddaughter of Trinity Broadcasting Network founders Jan and Paul Crouch, finding that her grandmother acted outrageously in refusing to report the girl's sexual assault by an employee.
Carra Crouch, now 24, says she was assaulted when she was 13 by a 30-year-old Trinity employee in an Atlanta hotel room. But when she reported it to Jan Crouch, the employee was fired and the assault kept quiet, Carra Crouch said.
This week, the jury in Santa Ana awarded her $1 million for past emotional damage and $1 million for future pain and suffering.
Trinity attorney Michael King said after the verdict that the organization disagrees and plans to appeal. Paul and Jan Crouch both died in the five years since the lawsuit was first filed, but they denied the allegations after the lawsuit was first filed.
Both sides agree that during Trinity Broadcasting's 2006 "Praise-a-Thon" fundraiser, Carra Crouch and the man smoked a cigarette together, drank alcohol together, and watched a movie on a bed in her room. But Carra Crouch and her attorneys allege the man fondled her, tried to kiss her, and gave her a glass of water that she believed was laced with a drug. She suspected she had been raped when she awoke.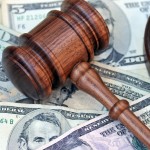 The lawsuit says that when Carra Crouch reported the incident to her grandmother back in California, Jan Crouch berated her and screamed "it's your fault."
The lawsuit said that as an ordained minister, Jan Crouch was required to report potential sexual abuse to authorities.
King argued during trial that Carra Crouch did not approach her grandmother as a minister. The jury agreed but said her actions were still egregious.
"They determined that her behavior in the way that she treated Carra qualified as outrageous conduct," plaintiff's attorney David Keesling told The Associated Press by phone.
The jury found that Trinity Christian Center, the nonprofit parent of TBN, was on the hook for $900,000 because Jan Crouch was 45 percent responsible for her granddaughter's suffering.
"This has been going on since I was 18, so that has consumed my entire adult life," she said. "It's exciting that they're being held accountable for at least part of the blame."
The jury also found that Carra Crouch's mother and the Trinity employee were also partially responsible, but neither was named in the lawsuit.
Keesling said a court would most likely revisit the issue later to determine how the money should be paid.
Carra Crouch told reporters outside court that she felt huge relief after such a long lawsuit.
The Associated Press doesn't normally identify the victims of possible sexual crimes. But Carra Crouch has spoken openly and publicly about the incident, and through her attorney approved the use of her name.
The Crouches founded TBN in 1973 and built it into an international Christian empire that beams prosperity gospel programming, which promises that if the faithful sacrifice for their belief, God will reward them with material wealth. The opulent sets and outfits on their broadcasts showed off the fruits of that wealth.
Their TV empire started showing cracks about five years ago, with allegations from members of their large extended family of financial shenanigans including lavish spending on private jets and mansions.
Copyright 2021 Associated Press. All rights reserved. This material may not be published, broadcast, rewritten or redistributed.
Topics California
Was this article valuable?
Here are more articles you may enjoy.