Temperatures are climbing along with the risk of wildfires as a spring heat wave moves into Southern California.
Forecasters predict temperatures in the 80s across greater Los Angeles this week, and some spots could see triple digits as the week goes on.
The warm weather is expected to last through the weekend in inland areas.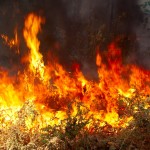 The National Weather Service warns that hot and dry conditions will create an elevated danger of brush fires.
Copyright 2021 Associated Press. All rights reserved. This material may not be published, broadcast, rewritten or redistributed.
Topics California
Was this article valuable?
Here are more articles you may enjoy.