Utah officials have reached a $300,000 settlement with a man accused of starting a 2012 fire that led to the evacuation than 1,000 northwestern Utah homes.
The Daily Herald reported the Utah County Commission approved the settlement with Kenneth Nielsen . Under the settlement, Nielsen's insurance provider at the time of the fire will have to pay $300,000 to entities such as Utah County, Eagle Mountain and Saratoga Springs along with state and federal agencies.
The settlement states that Nielsen and another man were responsible for the fire that burned over 8 sq. miles of land. According to the settlement, the men had been target shooting with explosive targets near Saratoga Springs.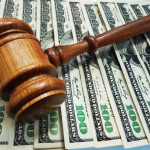 Utah County Commission approved a separate settlement with the second man in 2016.
Copyright 2021 Associated Press. All rights reserved. This material may not be published, broadcast, rewritten or redistributed.
Was this article valuable?
Here are more articles you may enjoy.