New regulations designed to strengthen workplace and environmental safety at oil refineries across the state were finalized this week.
The regulations, which take effect on Oct. 1, include recommendations of the Governor's Interagency Working Group on Refinery Safety, created after the Aug. 6, 2012 Chevron refinery fire. They are the result of a multi-year effort, including public input and consultation with workers, industry, non-governmental organizations, local agencies and communities.
The new regulations overhaul Cal/OSHA worker safety regulations as they apply to refineries and the California Accidental Release Prevention program.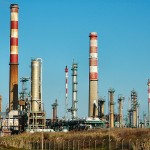 Key features of the regulations include:
Increased employer accountability for the mechanical integrity of refinery equipment
Requirements to adopt inherently safer designs and systems to the greatest extent feasible
Increased employee involvement in all aspects of the safety and prevention program
Periodic workplace safety culture assessments to evaluate whether management is appropriately emphasizing safety over production pressures
Authority for refinery personnel to shut down a unit, if needed, in the event of an unsafe condition or emergency and provisions for anonymous reporting of safety hazards
Requirements for investigations to determine root causes of any incidents that occur and develop interim and permanent corrective measures in response
Annual public reporting of refinery safety metrics under CalARP
California has 15 oil refineries, most of which in densely populated areas of Los Angeles and the eastern San Francisco Bay Area.
Following the 2012 Chevron refinery fire, Gov. Jerry Brown called for an interagency working group to examine ways to improve public and worker safety through enhanced oversight of refineries and strengthen emergency preparedness in anticipation of any future incident. The working group consisted of participants from 13 agencies and departments, as well as the governor's office.
Related:
Was this article valuable?
Here are more articles you may enjoy.