Evacuation orders affecting hundreds of people were issued in California and Oregon as wildfires neared small towns, including one that's a prime location for viewing the eclipse.
About 600 residents were told to leave the tourist town of Sisters, Oregon, and authorities said Saturday another 1,000 people had been told to be ready to leave if necessary.
Sisters is located on the edge of a 70-mile swath of the state where the moon will completely blot out the sun.
No structures had been lost and no injuries have been reported since the fire began last week. The cause is under investigation.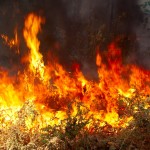 Today, they will have to contend with the solar eclipse that fire officials say will ground all firefighting helicopters and most fixed-wing aircraft for about 35 minutes as the moon's shadow passes over the area.
In California, authorities issued an evacuation order for the small town of Wawona as a week-old fire in Yosemite National Park grew and air quality reached a hazardous level.
Copyright 2020 Associated Press. All rights reserved. This material may not be published, broadcast, rewritten or redistributed.
Was this article valuable?
Here are more articles you may enjoy.