A small earthquake hit the Cook Inlet region of Alaska near Anchorage, the state's biggest city.
The Alaska Earthquake Center says the magnitude 2.8 earthquake struck at 9 a.m. Sunday a spot about 13 miles southwest of Anchorage.
The earthquake had a depth of 19 miles.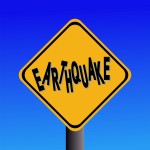 The center says several residents in Anchorage reported feeling the earthquake.
Copyright 2020 Associated Press. All rights reserved. This material may not be published, broadcast, rewritten or redistributed.
Was this article valuable?
Here are more articles you may enjoy.