An Albuquerque, N.M. cinema drone company says the Federal Aviation Administration has issued it a waiver that will allow it to fly drones over cast and crews on film locations.
Flytcam Motion Pictures Managing Partner Luke Davis says they are the first cinema drone company to get such a waiver from the FAA.
The Albuquerque Journal reported the waiver will allow the company to get aerial shots they could not have gotten otherwise.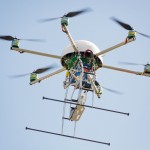 Davis says the company has been helping the FAA write regulations for drone flying for a few years.
According to Davis, CNN was previously unsuccessful in getting the waiver from the FAA.
Copyright 2019 Associated Press. All rights reserved. This material may not be published, broadcast, rewritten or redistributed.
Was this article valuable?
Here are more articles you may enjoy.