An earthquake hit Oregon roughly 40 miles south of Portland near Molalla and was felt by numerous residents in the area, the U.S. Geological Survey confirmed.
The USGS reported the magnitude 4.0 earthquake struck about seven miles southwest of Molalla and less than two miles from Scotts Mills.
The earthquake, which struck at 5:24 p.m. Wednesday, had a depth of 10.5 miles.
The Marion County Sheriff's Office said on Twitter that according to the 911 dispatch center, there had been no reports of damage.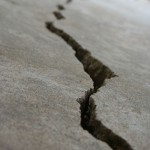 The sheriff's office also said that as a precaution, deputies responded to the area of Scotts Mills to check on residents.
Some 1,600 people had reported feeling the quake to the U.S. Geological Survey by 6:15 p.m. Wednesday.
Major earthquakes are classified as having a magnitude of 8 or higher.
Copyright 2019 Associated Press. All rights reserved. This material may not be published, broadcast, rewritten or redistributed.
Was this article valuable?
Here are more articles you may enjoy.