Registration opens today for eligible homeowners to receive grants of up to $3,000 for seismic retrofits of their older homes.
Homeowners have until Feb. 23 to apply for a grant from California's Earthquake Brace + Bolt program.
EBB is expanding eligibility this year to 17 additional California cities in high hazard areas, bringing the total to 51. The California Earthquake Authority has provided $6 million in funding for the grants this year, which the organization says is enough to support an additional 2,000 or more code-compliant seismic retrofits.
Homes with qualifying retrofits are eligible for discounts of up to 20 percent on CEA earthquake insurance premiums.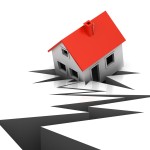 More than 1.2 million houses in high-hazard areas of California are particularly vulnerable to earthquakes because of the type of construction, according to the CEA. The homes are typically built before 1979, have a wood frame on a raised foundation and have a cripple wall in the crawl space under the house.
Typical retrofits for the type of homes currently funded by EBB grants cost between $3,500 and $5,500, and involve bolting the house to its foundation and adding bracing around the perimeter.
From today through Feb. 23, eligible homeowners can apply for retrofit funding at EarthquakeBraceBolt.com, where they can also find program information, select a licensed contractor and view the full list of eligible ZIP Codes.
The 2018 program will be available in select ZIP Codes in the following cities:
Northern California
Albany
Berkeley
Burlingame
Colma
Daly City
El Cerrito
Emeryville
Eureka
Hayward
Hillsborough
Los Gatos
Millbrae
Napa
Oakland
Piedmont
Redwood City
San Bruno
San Carlos
San Francisco
San Leandro
San Lorenzo
San Mateo
Watsonville
Woodside
Southern California
Alhambra
Altadena
Claremont
Colton
Fillmore
Glendale
Granada Hills
La Crescenta
La Verne
Los Angeles
Mission Hills
Monrovia
Montecito
Pasadena
Redlands
San Bernardino
San Fernando
San Gabriel
San Marino
Santa Barbara
Santa Monica
Santa Paula
Sierra Madre
South Pasadena
Sun Valley
Valley Village
West Hollywood
Was this article valuable?
Here are more articles you may enjoy.